Skip to main content
It looks like you're using Internet Explorer 11 or older. This website works best with modern browsers such as the latest versions of Chrome, Firefox, Safari, and Edge. If you continue with this browser, you may see unexpected results.
Citation Tools
You don't have to create citations on your own.
There are a number of tools to help.
If you found your article/book in OneSearch, there is a citation tool on the right toolbar!
Click "Cite" while viewing the material, select your citation style at the top, and copy and paste into your paper's references.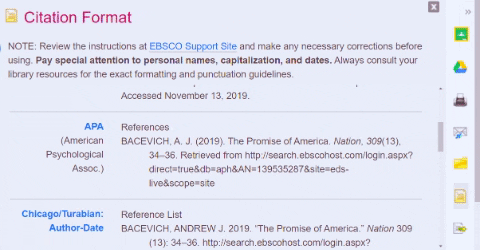 Remember to double check the citation for accuracy!
Mendeley

A free cloud-based program that automatically cites your sources, stores your articles, and can be shared with anyone you allow. Comes with an optional Google Chrome extension and is compatible with Microsoft Word.

Sylvan Paper

Sylvan Paper (formerly Citelighter) is a virtual highlighter that enables users to find and capture unique facts online and automatically generate citations. Compatible with Google Docs.
Why do you need to Cite your sources?
What if I don't cite my sources of information?
That's called

plagiarism

.
Plagiarism is the practice of taking someone else's work or ideas and passing them off as one's own.
Here are a couple of additional links to help you avoid doing it.
Quoting and Paraphrasing Sources
From the Writing Center at the University of Wisconsin at Madison
Still Need Help? Contact Me!
Nic Ashman